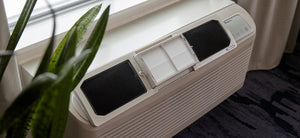 Breathe Safe,
Better Living®
The First Patent-Pending Air Purifying Filter Powered by PTAC Units
Top-Quality Air Purification
HEPA & active carbon filtration purify up to 99.97% of allergens, viruses, and bacteria down to .3 microns, while reducing odors and fumes.
Cost Effective Solution
Long-lasting, replaceable filters provide superior value & performance when up against comparable standalone room purifiers.
Set It & Forget It
Compact and durable design is easy to install with no additional electricity needed & can run up to 6 months of continuous use.
Inside Air
Inside air can be up to 5 times as polluted as outdoor air.
Outside Air
PTAC units introduce up to 35% of the outside air into the area that it's heating and cooling.
RZ Testing
PTAC units naturally get dirty and can be cleaned on a regular basis. During the in-between there is RZ AIRflow protecting you from the unseen!
SOLUTIONS FOR PERSONAL USE
The RZ AIRflow works with your PTAC unit to improve your air quality wherever you are. With its portable design and simple installation, the RZ AIRflow gives you clean, purified air at home or on the go.
Solutions for Businesses
Control the air you and your customers breathe in hotels, senior living communities, hospitals, apartments, and any space where a PTAC unit is found with the RZ AIRflow for PTAC units.
With air quality being more important to people than ever, the RZ AIRflow offers users a new way to improve the air they breathe when paired with PTAC units. Plus, it's more economical, lasts longer, and outperforms most standalone air purifiers.
Top-Quality Air Purification
• HEPA & active carbon filtration filters viruses, common allergens, and bacteria to .3 microns
• Purifies both inside and outside air pulled through the PTAC, within 45 minutes 
• Active carbon filters reduce room odors
Set It & Forget It
Install the RZ AIRflow to the top vent and within minutes it's ready to run at peak performance for up to 6 months of non-stop use. 
• No additional electricity needed 
• Zero added noise beyond the PTAC airflow 
• Minimal airflow reduction to PTAC airflow (5%) 
I no longer had itchy watery eyes, and no dry throat and cough. It was that amazing for my first use - I recommend this product for travelers. 

Jennifer

Bellflower, CA
My room after using the purifier smelled like clean air. I had no allergies my entire trip. I slept like a baby and best of all I did not have to take any medication for my allergies or asthma.

Luz

Jersey City, NJ
It is the best allergy product that I have used for a long time... It has lessened my allergy symptoms significantly and I am able to enjoy traveling more because of it.

Vasha

Brooklyn, NY
I think this product was amazing. It was lightweight, easy to install, and improved my experience traveling more than I ever could have expected!

Drake

Boston, MA
The world's most comfortable air filtration mask®
RZ Mask
Looking for additional personal air purification? Check out our flagship product, the RZ Mask.