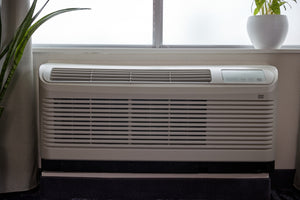 PTAC Brand & Model Finder
The RZ AIRflow is compatible with nearly all PTAC units built in the past ten years.

Below is a list of units and model numbers to reference. The RZ AIRflow will purify rooms where the unit does not fit exactly over the size, however additional time may be needed to reach maximum purification if there is not a tight seal around the full vent space.
Amana
PTC073G
PTC093G
PTC123G
PTC153G
PTC173G
PTH073G
PTH093G
PTH123G
PTH153G
PTC074G
PTC094G
PTC124G
PTC154G
PTH074G
PTH094G
PTH124G
PTH154G
Friedrich
Freshaire
PVH09K3FB
PVH12K3FB
PVH09R3FB
PVH12R3FB
Zoneaire Premier
PDE07K3SG
PDE07R3SG
PDE09K3SG
PDE09R3SG
PDE12K3SG
PDE12R3SG
PDE15K5SG
PDE15R5SG
PDH07K3SG
PDH07R3SG
PDH09K3SG
PDH09R3SG
PDH12K3SG
PDH12R3SG
PDH15K5SG
PDH15R5SG
Zoneair Select
PZE07K3SB
PZE09K3SB
PZE09R3SB
PZE12K3SB
PZE12R3SB
PZE15K5SB
PZH07K3SB
PZH09K3SB
PZH09R3SB
PZH12K3SB
PZH12R3SB
PZH15K5SB
GE
Zoneline
AZ45E07DAP
AZ45E12DAP
AZ45E12EAP
AZ45E09EAP
AZ45E09DAP
AZ65H15EAD
AZ65H12EAD
AZ65H15DAD
AZ65H07EAD
AZ65H07DAD
AZ65H12DAD
AZ65H09DAD
AZ65H07EAC
AZ45E07EAC
AZ65H09EAD
AZ45E12EAC
AZ45E15EAC
AZ65H15EAC
AZ65H12EAC
AZ45E09EAC
AZ65H09EAC
AZ65H15DAC
AZ65H09DAC
AZ65H07DAC
AZ45E07DAC
AZ45E07DAB
AZ45E12DAC
AZ45E12DAB
AZ65H09DAB
AZ65H12DAB
AZ65H07DAB
AZ65H12DAC
AZ45E15DAC
AZ65H15DAB
AZ45E09DAC
AZ45E15DAB
AZ45E09DAB
AZ65H15DBM
Zoneline with Makeup Air
AZ65H07DBM
AZ65H09DBM
AZ65H09EBM
AZ45E12DBM
AZ65H12EBM
AZ65H12DBM
AZ65H07EBM
AZ45E09DBM
LG
R410-A
LP073IHP
LP093IHP
LP123IHP
LP153IHP
PremAire
Elite Series
Pro Series
ePro Series