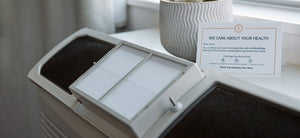 World's First Air Purifier Powered by a PTAC
BETTER AIR QUALITY IMPROVES THE GUEST EXPERIENCE.
When you provide the RZ AIRflow for your guests, you're showing your commitment to their health and well-being. Improve the air quality to drive guest and employee health and retention.
Watch the overview video below to learn about RZ AIRflow and then complete the form below to try a sample
AFFORDABLE PRICING, SUPERIOR PERFORMANCE
AIRflow Unit (No Case): $64.95
AIRflow Unit with Case: $79.95
Filter Replacement Kit : $36.98
Filters should be replaced after
6-months of continuous use
What do travelers think of the RZ AIRflow?*
*Based on consumer focus group of frequent travelers with allergies/asthma.
I no longer had itchy watery eyes, and no dry throat and cough. It was that amazing for my first use - I recommend this product for travelers. 

Jennifer

Bellflower, CA
My room after using the purifier smelled like clean air. I had no allergies my entire trip. I slept like a baby and best of all I did not have to take any medication for my allergies or asthma.

Luz

Jersey City, NJ
It is the best allergy product that I have used for a long time... It has lessened my allergy symptoms significantly and I am able to enjoy traveling more because of it.

Vasha

Brooklyn, NY
I think this product was amazing. It was lightweight, easy to install, and improved my experience traveling more than I ever could have expected!

Drake

Boston, MA
Want to Try AIRflow?
Fill out the form below to learn more about AIRflow and an account manager will contact you to send a sample to your hotel
TOP-QUALITY AIR PURIFICATION
HEPA & active carbon filtration purify up to 99.97% of allergens, viruses, and bacteria down to .3 microns, while reducing odors and fumes.
COST EFFECTIVE SOLUTION
Long-lasting, replaceable filters provide superior value & performance when up against comparable standalone room purifiers.
SET IT & FORGET IT
Compact and durable design is easy to install with no additional electricity needed & can run up to 6 months of continuous use.
HAVE A QUESTION?
Please email Joe and he will respond within one business day
Or Call 952-693-1142
Monday - Friday
8am-5pm CST
Email Joe